Regular price
Sale price
$29.99
Unit price
per
Sale
Sold out
"Oskar is a standard Schnauzer and has a wiry coat and has suffered with dry and itchy skin. Since using Euclove Natural Dog shampoo his coat has become super soft and he is very rarely itchy. Sooo much better than the oat shampoos."
Does your furry family member get dirty, stinky or have sensitive, itchy skin? With this professional salon grade natural dog shampoo, your dog will be clean, itch free and smell & feel great.
NATURALLY CLEAN: Cleans and degreases skin while nourishing it at the same time without stripping their coat.
PROTECTS SKIN & STOPS ITCHES: Petrochemical based shampoos often cause itching even for your freshly washed pooch. Neem oil is an antipruritic, meaning it doesn't itch and actually helps to heal and stop itchy skin.
INHIBITS FLEAS, MITES & YEAST GROWTH: Neem oil has unique properties that naturally inhibit fleas, mites and yeast growth. It is normal in dogs to have low numbers of bacteria and yeasts on the skin surface. When there is a disruption to the skin's natural ecosystem these bacteria and yeasts can overgrow causing disease.
SUITABLE FOR ALL BREEDS: The gentle nourishing shampoo is suitable for all breeds and coat types.
HELPS FIGHT MICROBES: Microbes commonly found on skin cause dermatitis, Neem and other essential oils in the shampoo help fight them.
SUPPORTS SKIN HEALTH: Ideal for generalised or multifocal therapy of dermatitis.
TRUSTED AND USED BY PROFESSIONAL SALONS: Professional salons use our products to wash hundreds of dogs every week.
SUITABLE FOR SENSITIVE SKIN: Suitable for dogs with sensitive skin.
NON-TOXIC INGREDIENTS: Free from synthetic chemicals like sulphates, parabens, dyes, colours and fragrances.
101 Day Happiness Guarantee!

You're going to love our products! In the unlikely chance that you try one of our products and are not happy with it, we have a 101 Day Happiness Guarantee! Just let us know and we'll give you your money back — no questions asked!
$10 anywhere in Australia, FREE over $89

Your order ships in 2-3 working days from our factory in Melbourne with Australia Post.
Smells Like

A sweet, floral and herbaceous blend with a top note of anise from Fennel essential oil.
View full details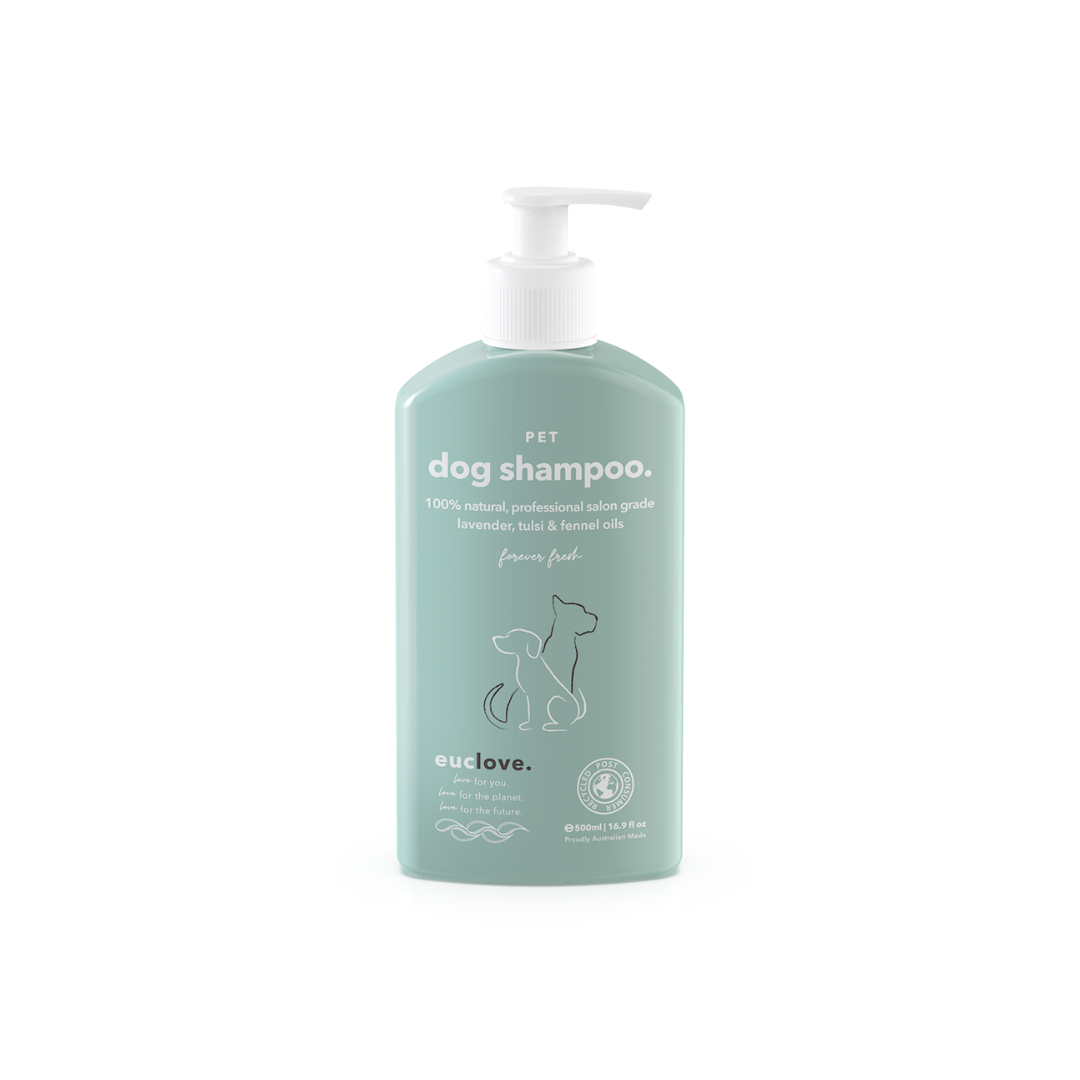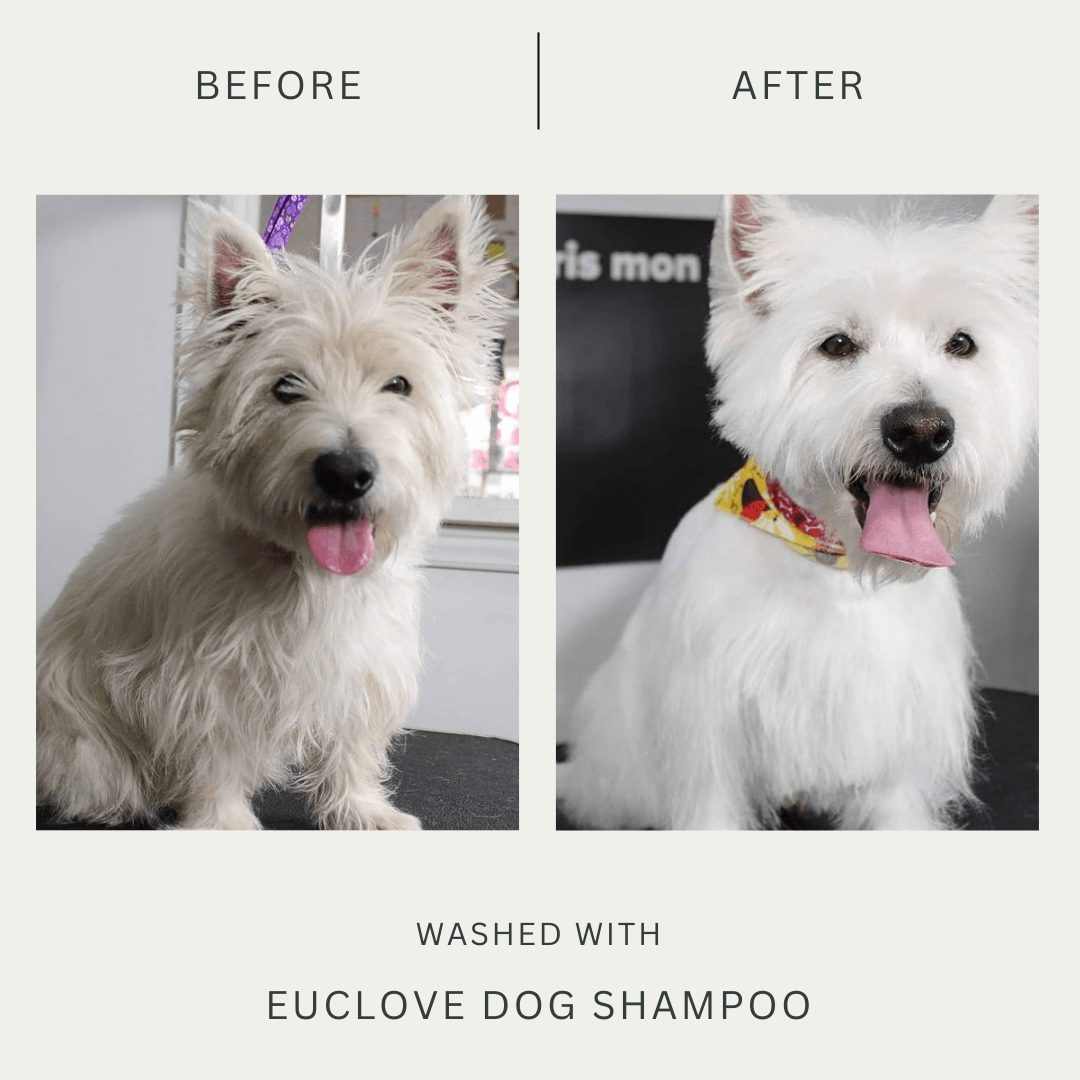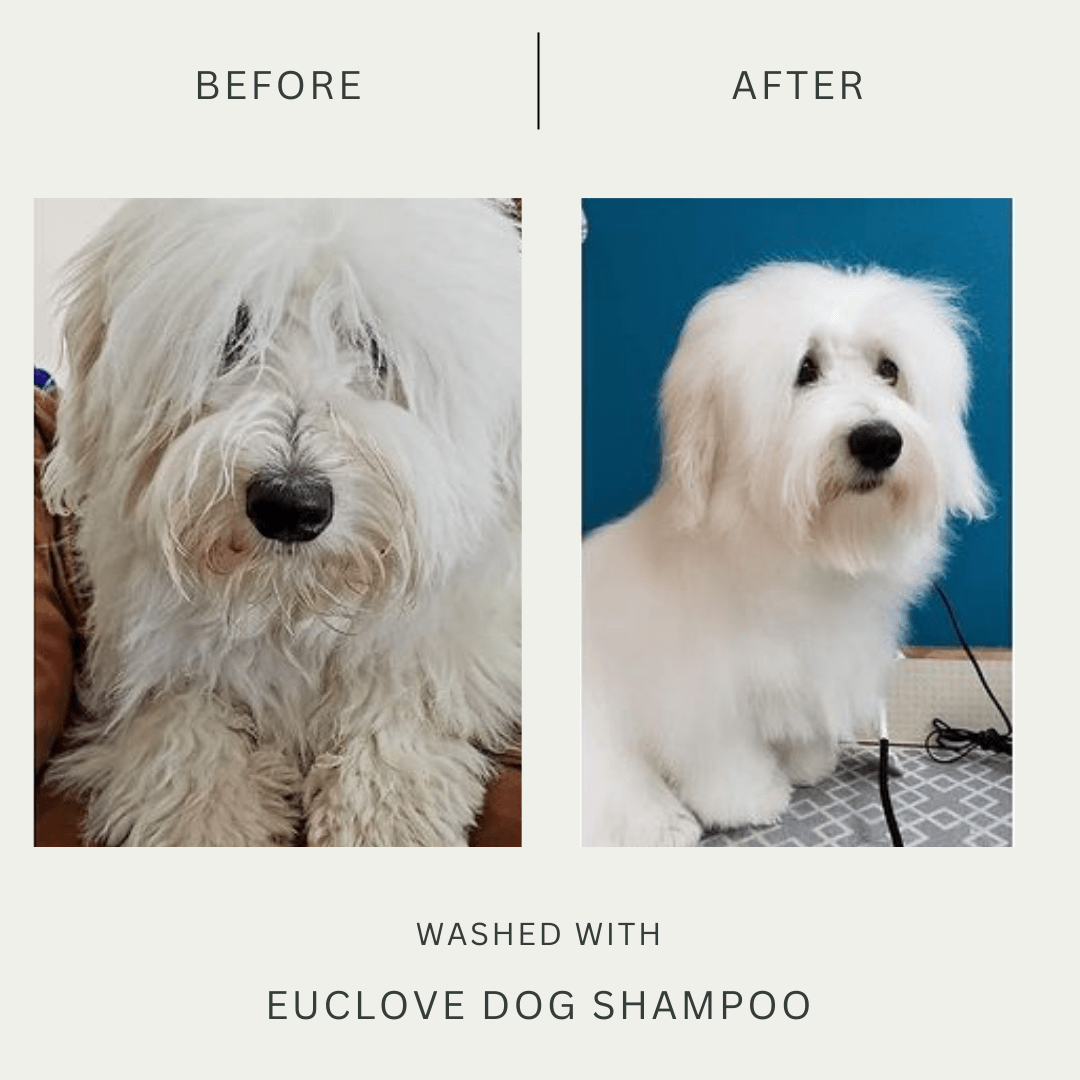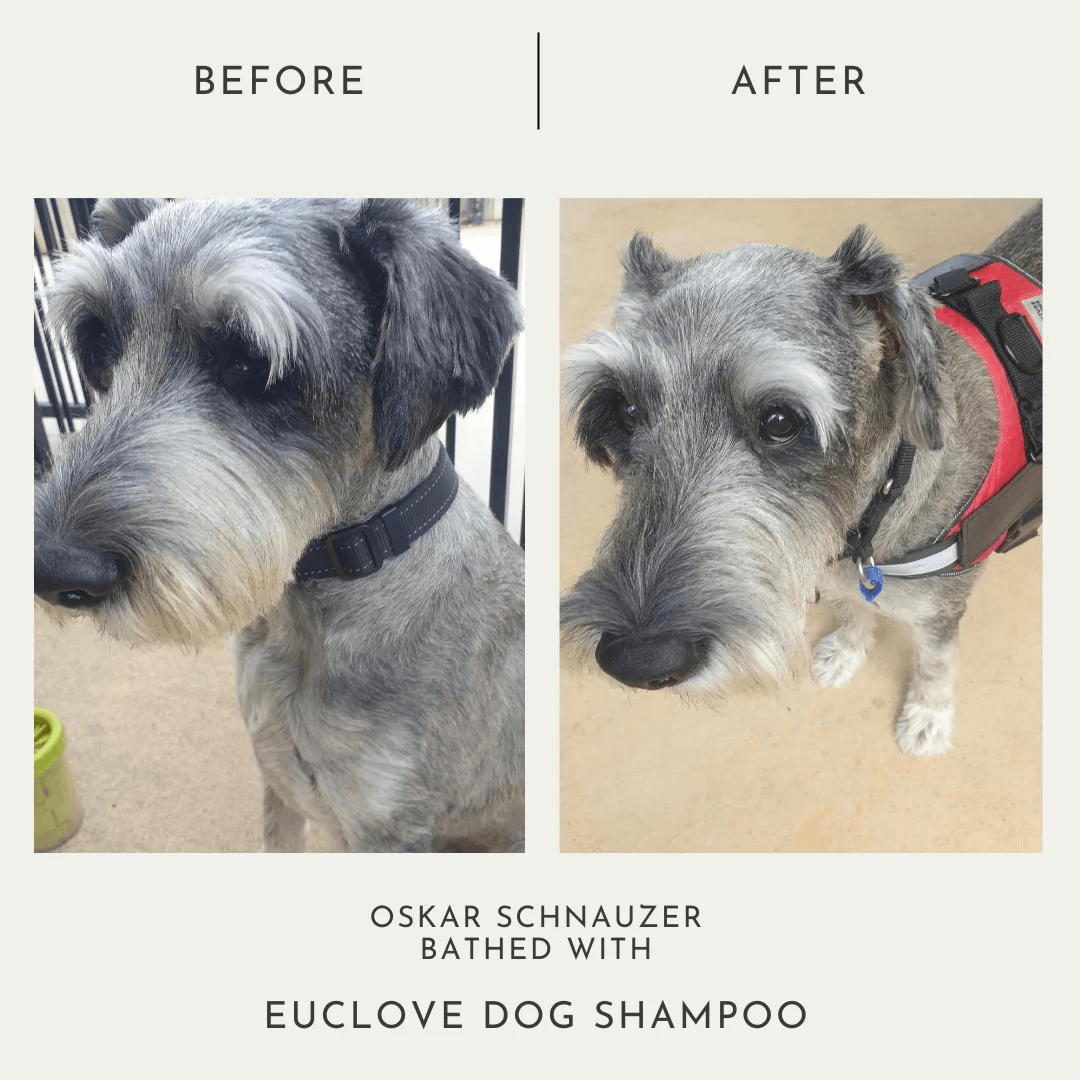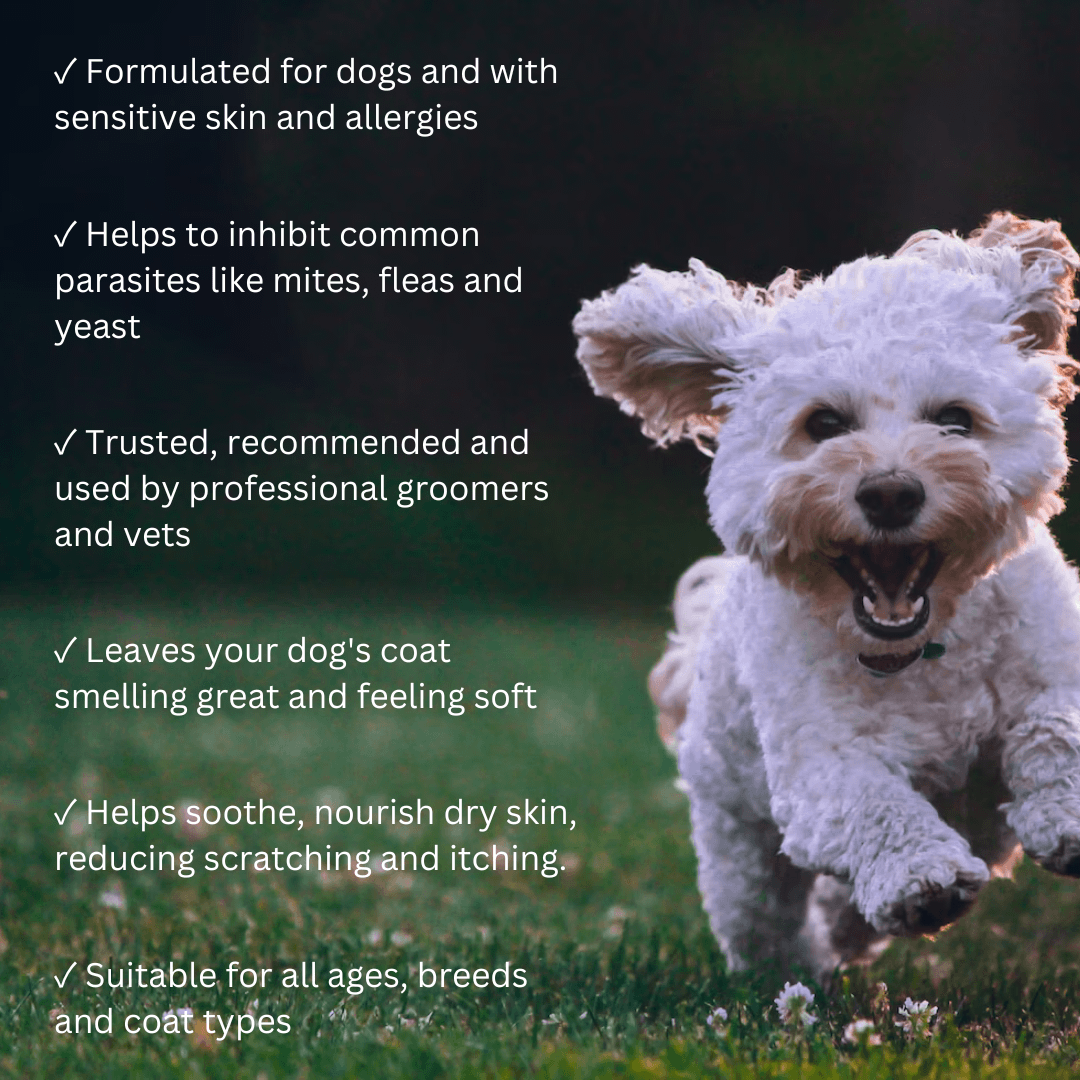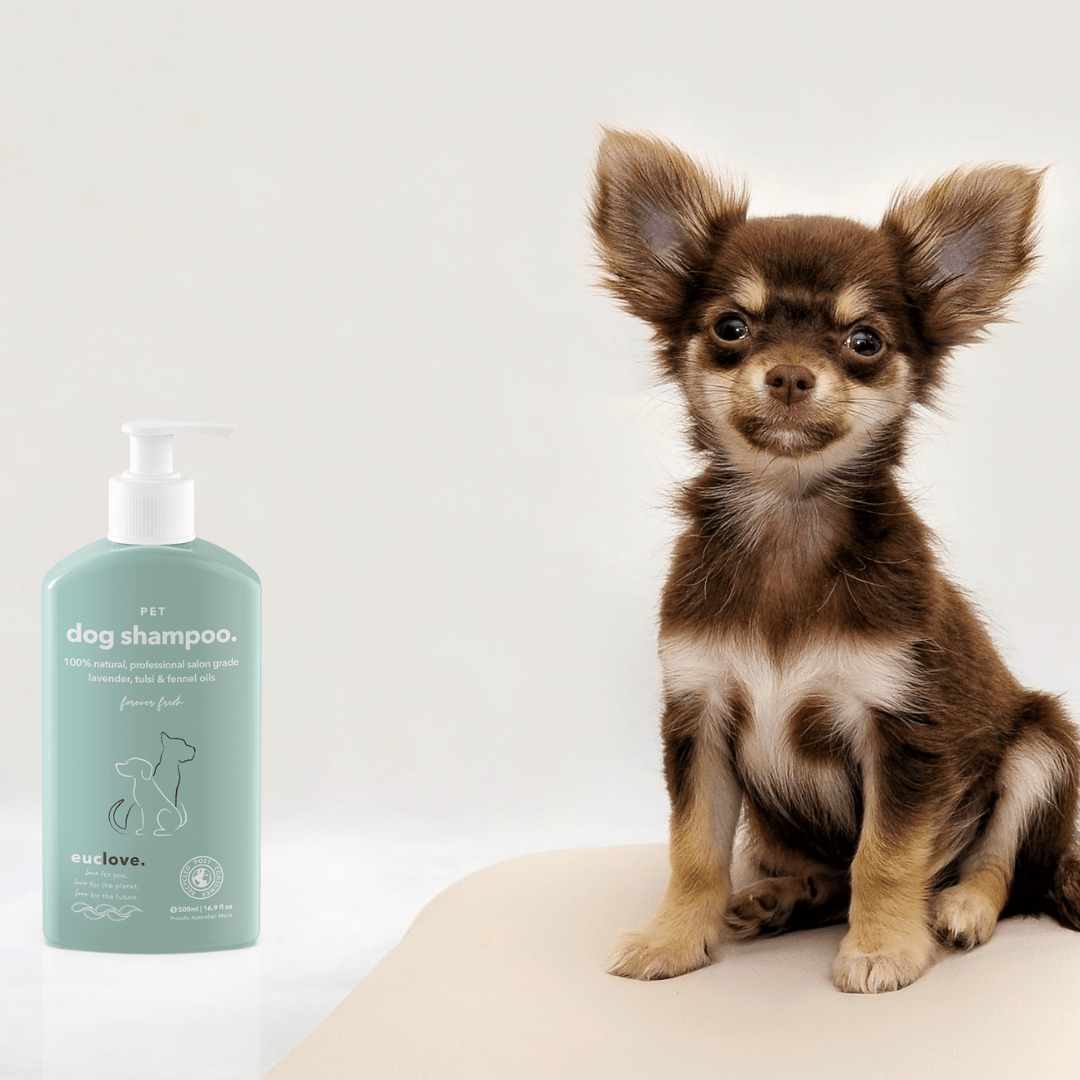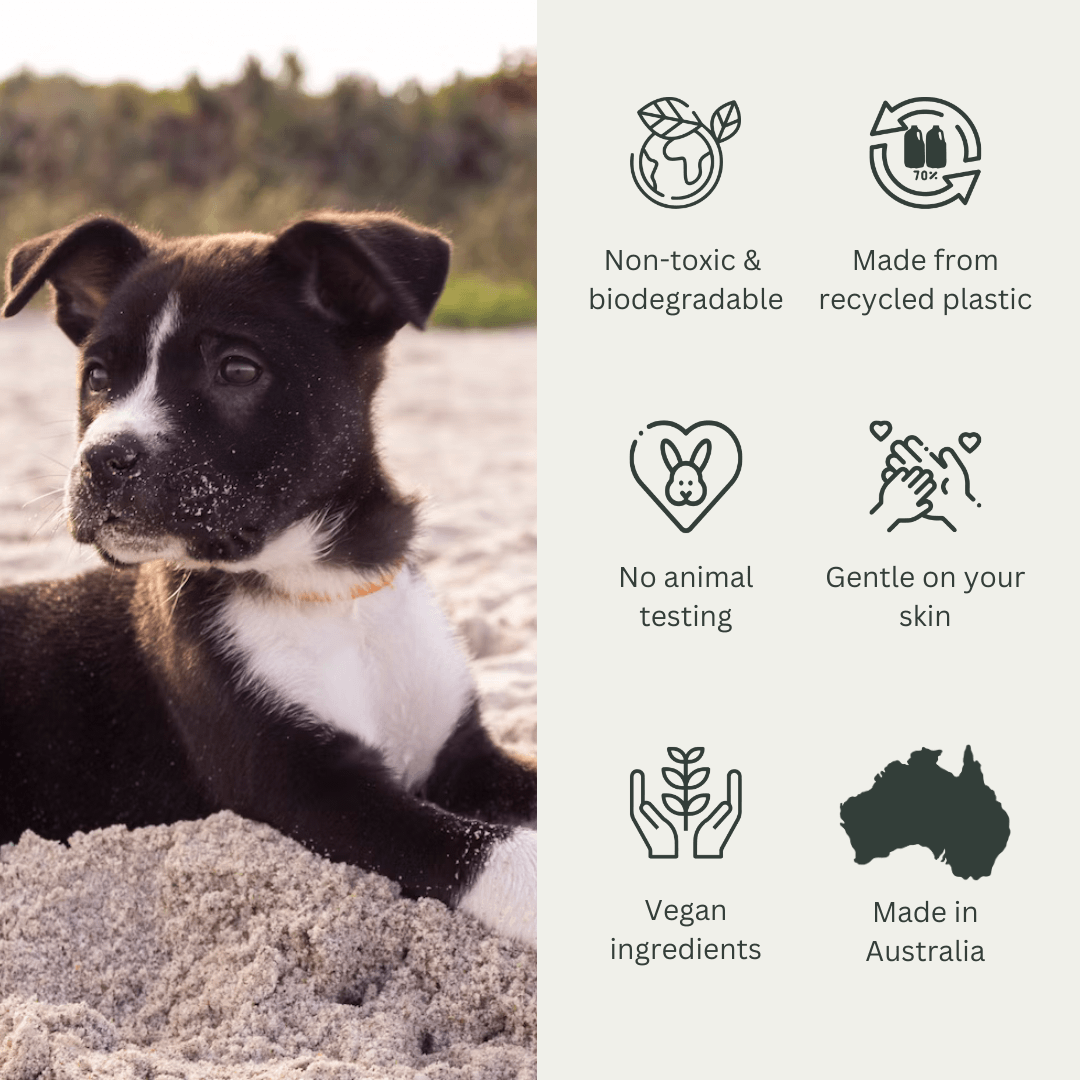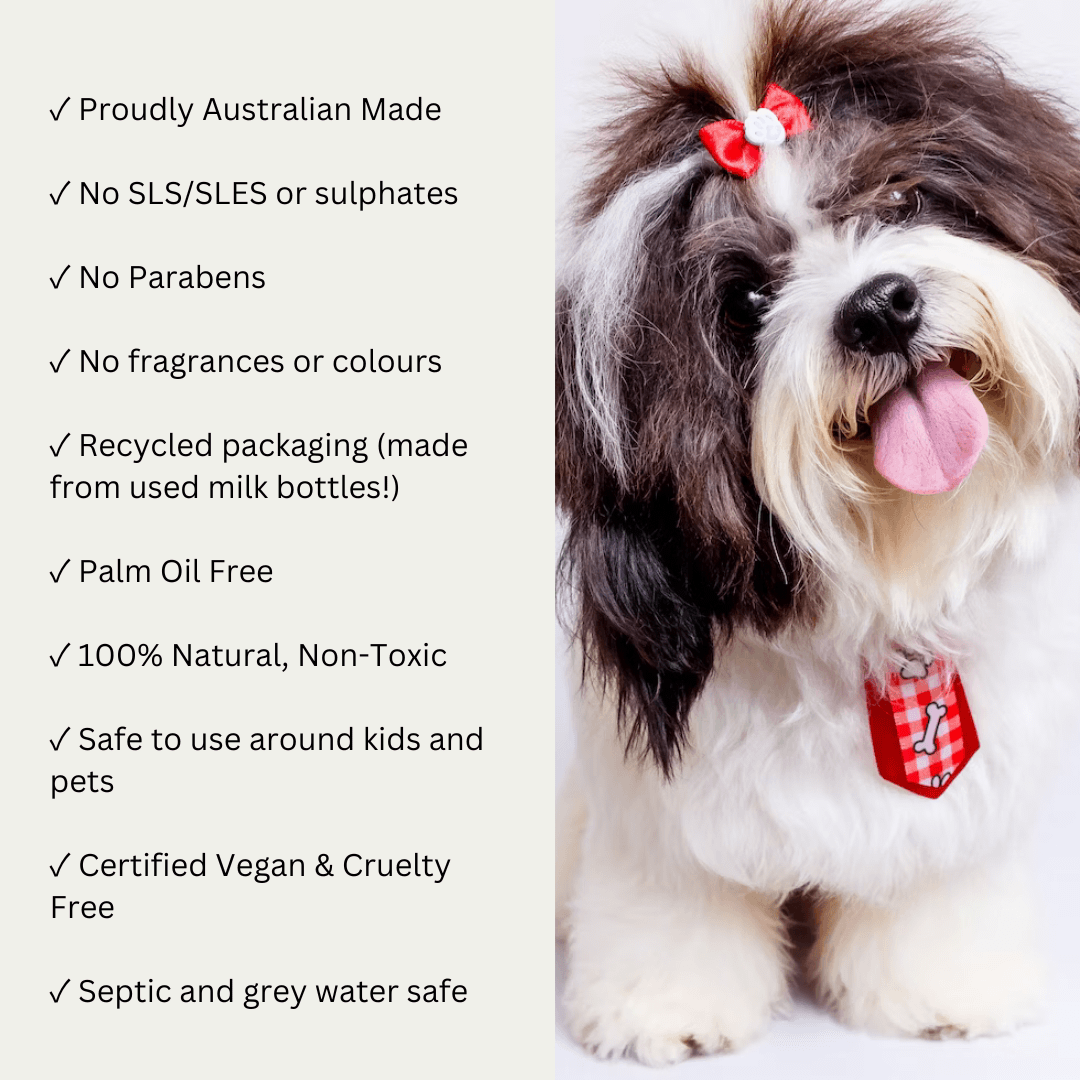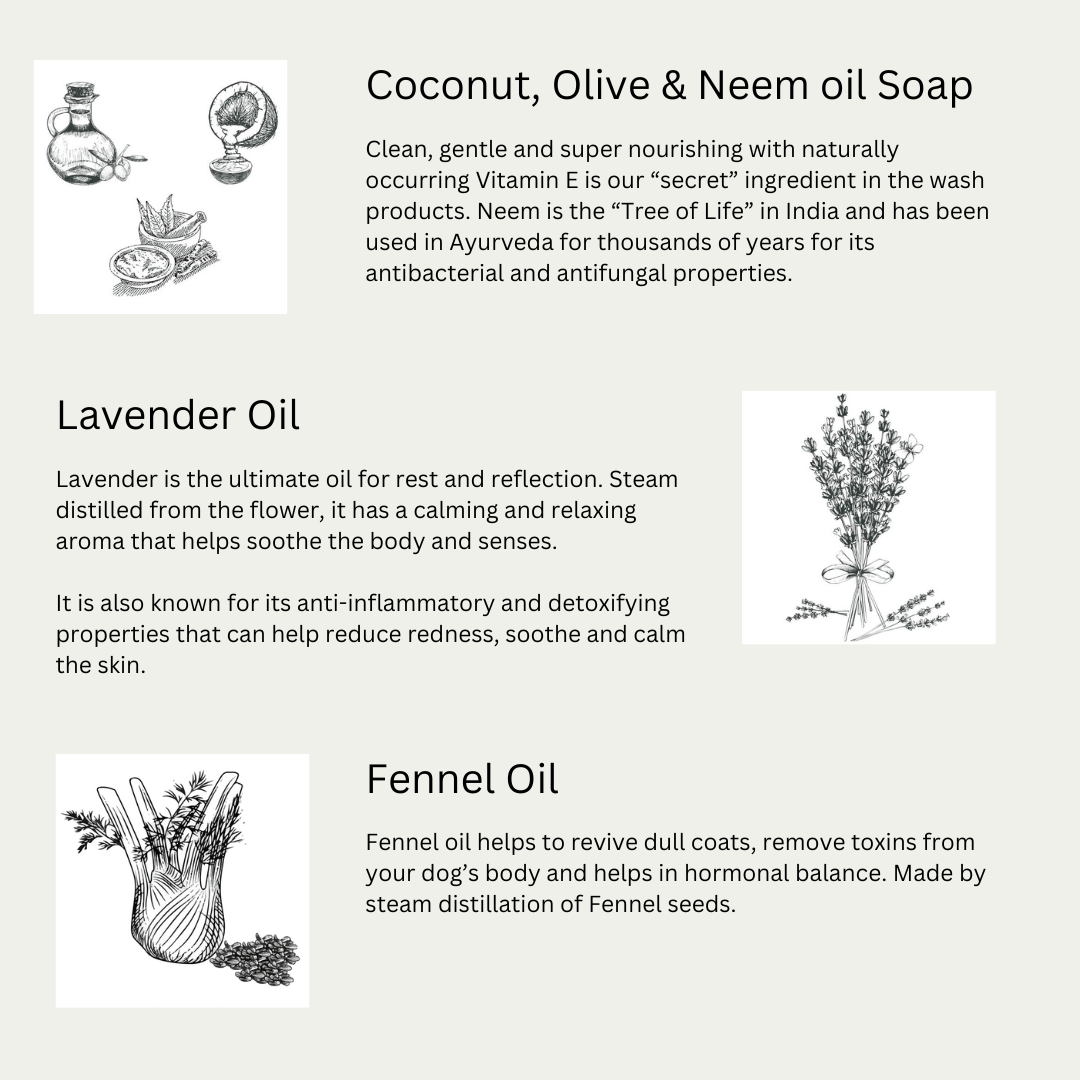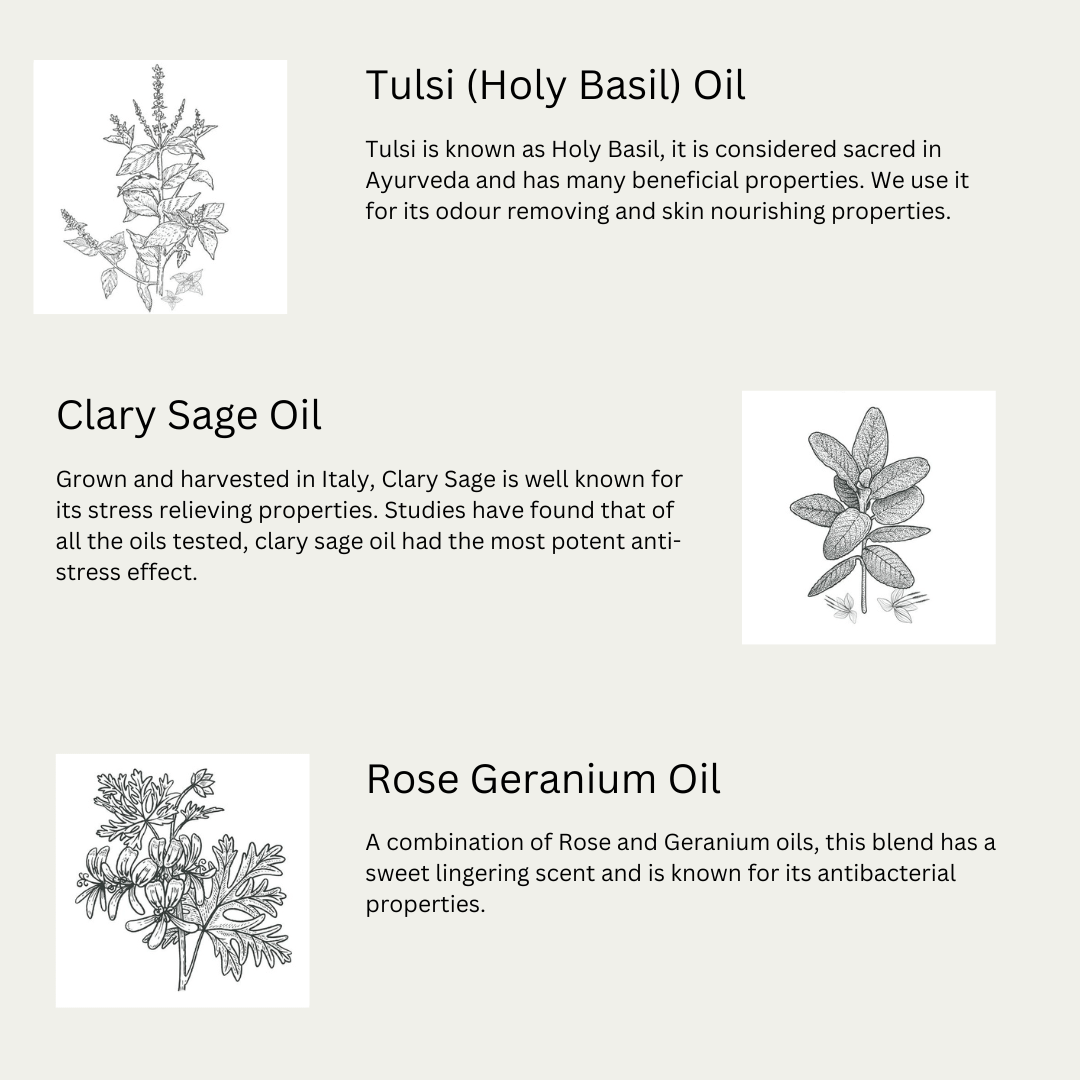 "Oskar is a standard Schnauzer and has a wiry coat and has suffered with dry and itchy skin. Since using Euclove Natural Dog shampoo his coat has become super soft and he is very rarely itchy. Sooo much better than the oat shampoos."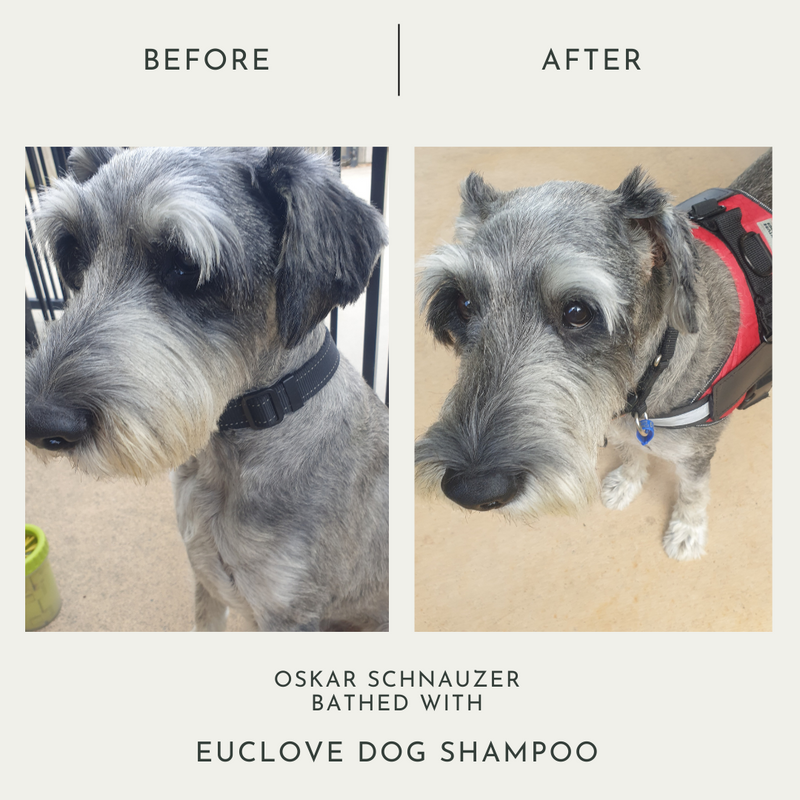 Effective without compromise
Oskar featured here is a Schnauzer - this photo was sent through by Lisa and Stuart from Queensland.
There's a common misperception that natural products are not as effective as cleaning chemicals.
Natural ingredients can be just as powerful as synthetic chemicals but without the harmful fumes, allergies and impact on our planet.
"Oskar is a standard Schnauzer and has a wiry coat and has suffered with dry and itchy skin. Since using Euclove Natural Dog shampoo his coat has become super soft and he is very rarely itchy. Sooo much better than the oat shampoos."
Lisa, Wynnum North QLD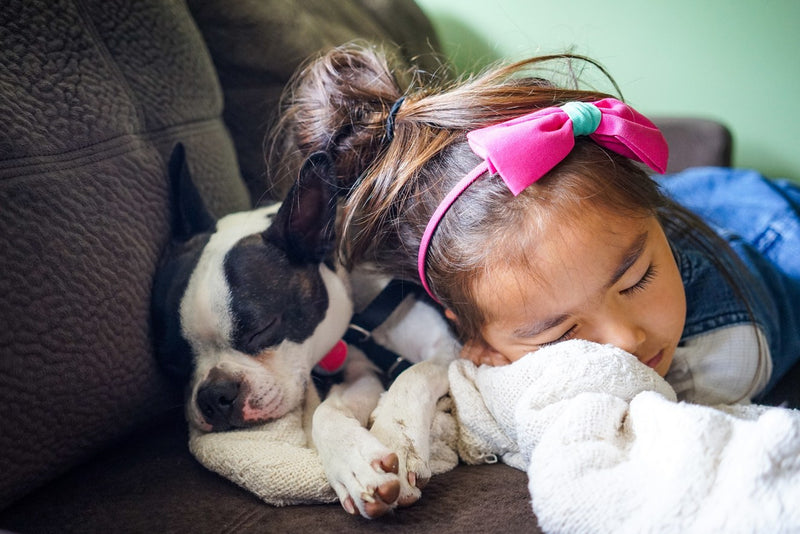 Safe around kids and pets
Did you know that some essential oils can be dangerous for our fur family? It's true! That's why we work closely with veterinarians while formulating our products to make sure they are completely safe for our beloved pets. We understand the unique sensitivities they have, and our vet-approved formula puts their well-being first. 🐾💚
Our product range is safe to use around pets! We care deeply about the well-being of our furry companions. That is which is why we take extra steps to ensure our cleaning products are pet-friendly. 🐶🐱
Love it
One of my dogs has sensitive skin and this shampoo does not seem to bother him. This is great for both him and me!
We have two dogs, 1 a Bull Arab x & the other a Neo Mastiff x.
Henry the Neo Mastiff x has an awful skin allergy and we bought the Natural Dog Shampoo hoping to see an improvement.
Unfortunately after using for the first time, it seemed to aggravate his condition. So we have decided it is best not to use it again on him. We will continue to use it on our other dog "Napkin". Napkin has enjoyed several washes with it , with no issues.
Sensitive pup no fuss with this shampoo
This shampoo was a delight for our Shih poo pup. Usually he gets itchy after baths but with this shampoo he just smelt lovely and no scratching. Oh and soft and tangle free.
Clean happy dog
I've used lots the of Euclove products around the house and think they are great, so it was a natural choice to try the dog shampoo when it was launched. I LOVE the smell. It fills the house with a beautiful scent but it doesn't seem to over power Bonnie (that's our cavoodle) It doesn't have a lot of foaming action but I found that it washes out quickly and easily so that's a big plus. Thanks Euclove
Great dog shampoo
The liquid was really thick, which I like. Didn't have to use much at all. Smelt great!
Have a question? We've answered some common ones.
My dog has sensitive skin, can I use the shampoo?

Unlike synthetic chemical based shampoos, our dog shampoo is specifically formulated to be suitable for all skin types. So, it is suitable for sensitive and itchy skin.
How often should I wash my dog?

Dogs only need a wash every 4-6 weeks or when they are too stinky for a hug. Washing too frequently can disrupt the natural defences of the coat, making your dog even more stinky and potentially contributing to skin diseases.
Can I use my shampoo on my dog? Why do I need a special one?

Because dogs have different skin to us. Human shampoos are low pH - using them on your dog makes them more likely to suffer from fungus, bacteria and yeast infections which will cause itch and irritate their skin. Our dog shampoo is specifically formulated to look after and clean the dog's skin.
What if my dog swallows some of the shampoo?

If your dog consumes some of the product, they will throw it back up or have an upset stomach, but it will not cause permanent harm. Give them water to drink. If they consume a large amount or their symptoms persist, contact your vet.
Can it also be used on Cats?

In general cats don't need to be bathed or washed, they groom themselves naturally. They may need a bath if they have skin conditions like allergies, fleas or ring worms. Our shampoo is a gentle formulation and is suitable for cats. Please check with your vet first bathing your cat.
Is this suitable for my new puppy? I have a 6 month old pup, she is a golden retriever with sensitive skin.

Pups can be especially sensitive to harsh chemical shampoos. This formulation is gentle and is suitable for all ages, breeds and coat types. The products are used by professional groomers and the ingredients are vet approved.
Still have a question? Hit us up on the Chat or contact us. We love talking to people and answering questions.
For general questions, also check out our FAQ page.
ASK A QUESTION
The benefits of pure essential oils
Every ingredient has a purpose and scientifically proven benefits.
We never use an ingredient just for the smell, even though they smell amazing! Made with care using traditional steam distillation, our therapy grade pure essential oils are sustainably grown in their native lands.
Coconut, Olive & Neem oil Soap

Clean, gentle and super nourishing with naturally occurring Vitamin E is our "secret" ingredient in the wash products. Neem is the "Tree of Life" in India and has been used in Ayurveda for thousands of years.

Lavender Oil

Lavender is the ultimate oil for rest and reflection. Steam distilled from the flower, it has a calming and relaxing aroma that helps soothe the body and senses.

It is also known for its anti-inflammatory and detoxifying properties that can help reduce redness, soothe and calm the skin.

Fennel Oil

Fennel oil helps to revive dull coats, remove toxins from your dog's body and helps in hormonal balance. Made by steam distillation of Fennel seeds.

Tulsi (Holy Basil) Oil

Tulsi is known as Holy Basil, it is considered sacred in Ayurveda and has many beneficial properties. We use it for its odour removing and skin nourishing properties.

Clary Sage Oil

Grown and harvested in Italy, Clary Sage is well known for its stress relieving properties. Studies have found that of all the oils tested, clary sage oil had the most potent anti-stress effect.

Rose Geranium Oil

A combination of Rose and Geranium oils, this blend has a sweet lingering scent and is known for its antibacterial properties.